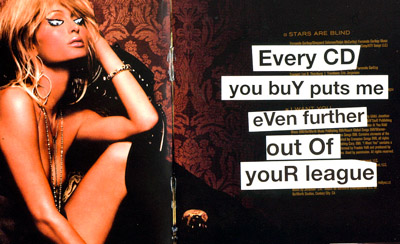 In August 2006, British graffiti artist Banksy ( yessir, "the" Banksy) and Gnarls Barkley member Danger Mouse replaced 500 copies of Paris Hilton's album in British music stores (HMV) with altered album artwork of Paris Hilton topless, and a sticker which said: "Thou Shalt Not Worship False Icons", "Why Am I Famous?", "What Have I Done?", and "What Am I For?", and the best part is; the inside cover art depicted Hilton with a dog's head. The CD was a 40 minute instrumental containing various statements she had made. Those 500 album copies were quickly removed from shelves after several complaints about it. Hilton had delayed the album's release to include a cover of the Gnarls Barkley song "Crazy" (co-written by Danger Mouse), though it was not included in the final release.
Tracklist:
01. Danger Mouse & Banksy - That's Hot
download:
here (rapidshare)
here (mediafire)
see the albumart guerrilla prank
here
P.S.: sorry for the delayed updates, I've been kinda busy, and lazy; so sum that up. in the meantime, check this
one out
instead, it's a site filled with polaroid photos that have been taken by a dude, from 1979 until the day he actually died. see you soon, peace uup!.